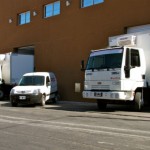 Doña Francisca is a family-tradition cooperative, with a work culture based on honesty and progress. This cold-storage plant, founded by Jorge Discala, has been operational in the city of Mar del Plata since 1979. As a company it has managed to adapt to changes in catering to local market needs, leaving its mark on the port of Mar del Plata.

"We perform the major activities concerning commercialisation of fish. Our logistics range from extracting the raw material through to personal delivery to the customer".
Doña Francisca is also a cooperative. Here the management-employee relationship is even-handed and communication more fluent; work issues as well as achievements or problems that may arise are solved personally through dialogue, with the other person seen as a colleague and as an essential component for the company's general performance. The same personnel have worked at Doña Francisca for years, and work is performed in a climate of trust and identification with the job.
"Our aim is to respect values, the path and tradition of our work cooperative and the port sector, with a clear vision of becoming a company that looks ahead, optimising procedures for the utmost quality and the latest technology".